December's here already, and looking back it's been an absolutely packed year – no wonder it seems to have flown by! Here are some of our 2017 highlights:
In April the highly respected Pressure Jet Markers, famed throughout the industry for their line marking machines, became part of the MH Goals family. We worked for many years with PJM and knew them to be a family-run business that produced high quality products, so they were a perfect fit for us when the opportunity arose earlier in 2017. We are now the exclusive manufacturers of Pressure Jet Markers line marking machines, supplying them to grounds around the world.


In May we were delighted to see John Terry lifting the Premier League trophy as Chelsea swept all before them on their way to the title. We have an excellent relationship with the London club, and supply goals for Stamford Bridge as well as their Cobham training centre. We're not saying for definite we were the main factor in their success, but in a world of marginal gains we like to think we were an integral part …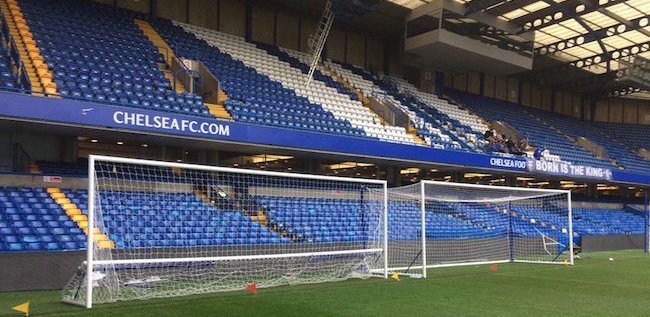 2017 was also the year we were set an engineering challenge by Equal Playing Field, an organisation set up to advance women's equality in sport at all levels. They were sending an all-female team of footballers to Mount Kilimanjaro in June, with the aim of breaking the world record for the highest ever game of football. To be a legitimate record attempt they needed to play with full-sized 24×8 goals, and so they contacted us. Creating a set of posts that were light, simple to assemble and disassemble, and easy to carry up a mountain was a really exciting test of our ingenuity, but we're pleased to say we managed it – as did the team, who received their Guinness World Record award in December.
March saw us reach another milestone with the opening of our new factory. It marked the end of a year-long build, and means we can now offer a far more streamlined service, with new manufacturing equipment, more effective warehousing and a greater control over everything we produce – great for us, great for you!
2017 also saw more recognition of Mark Harrod's reputation as one of the country's top safety experts, as he was brought in by the BSI as an independent expert to advise on goalpost and sports equipment safety. This position has already seen him sharing his expertise during the drafting of BS EN 16579; the most demanding safety standard for goalposts ever written.
We've been out and about this year, exhibiting at both BTME in January and Saltex in November. It's always great to be at these events as it gives us a chance to meet so many of our customers in person, as well as see new faces and catch up with old friends. We're already looking forward to BTME 2018 – we'll be at stand M15, come and see us!
In October we released our latest catalogue. With 25% more pages than last year it's our biggest ever edition and has 57 pages dedicated to football alone. It also details our hockey and rugby ranges, as well as equipment for athletics, netball, golf, Gaelic football and much more. You can get your copy by calling us on 01502 711298.
And we've continued to work closely with County FAs in 2017 to support the grassroots game, and offer all affiliated clubs 20% off a large range of goals and accessories. One of our favourite events this year was to support 'Love Football, Live Football' – a week long celebration of local football, run by Suffolk FA. Events took place across the county, and gained backing from Ipswich Town FC, Suffolk's top professional club.